Lately, this question has been coming up a lot from our customers and partners—when should they consider SAP Field Service Management (FSM)?  What are the Use Cases where the Unvired mobile Work Orders app fits best and what scenarios suit SAP FSM? Below, we present information as to when each solution is appropriate that should enable making the right selection.  We start with use cases for which SAP FSM is the better choice:
SAP Field Service Management Sweet Spot:
External Field Service/Customer Service: For firms that provide field service to external organizations.
Planning and Dispatching: Planning Board and the new Modal UI enables Planners to do their job more efficiently.  Planners have easier access to data about service calls and activities.
Resource Optimization: Planners have more readily information at their fingertips that allows them to perform better resource allocations.  Enable planners to automatically rearrange the schedule of a selected technician. The system will identify optimization potentials.  The planner can filter teams by selecting for example between Emergency and Non-Emergency teams.
AI: The solution has AI-enabled resource scheduling that supports multiple work time patterns per technician.
Predictive Routing: FSM takes into account historical and lives traffic data to better predict the travel time of technicians.
Integration with CRM Service: SAP FSM integrates with SAP CRM Service so that activities are created in FSM from Service Orders in SAP CRM.
Unvired Mobile Work Orders Sweet Spot:
Internal Maintenance/Operations/Reliability teams: For companies that have assets deployed in Plants or in the Field that need to be managed.
Inspections and Maintenance: For executing Rounds/capturing Measuring Points, executing Work Orders/Operations, Time confirmations, Create Notifications, Manage Master Data, Consume Materials, and Access Documents.
Integration with SAP Plant Maintenance: Sync data with SAP PM from mobile devices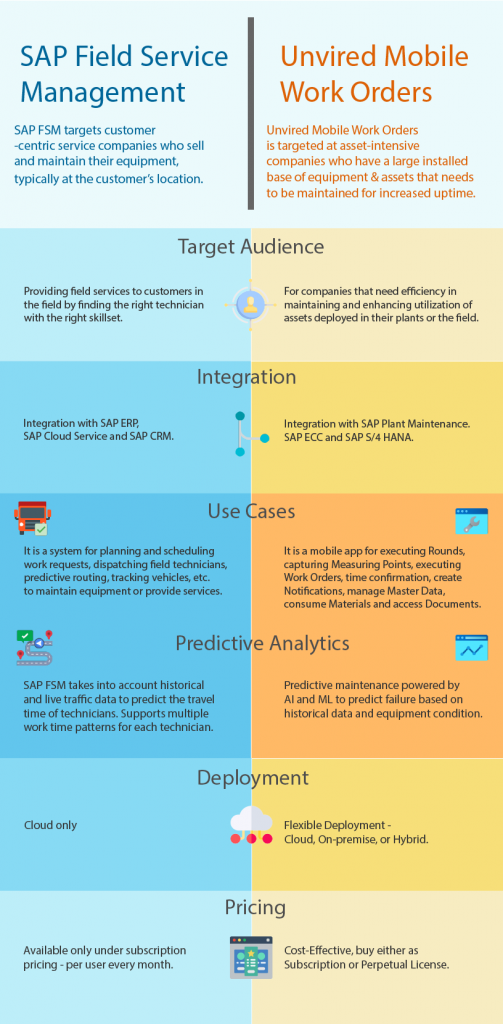 For more information on SAP FSM, pl. check out the link below:
SAP Field Service Management l field service management software
For more information on the Unvired Mobile Work Orders app, pl. refer to the link below:
Mobile Work Orders | Mobile Plant Maintenance | SAP Mobile EAM (unvired.com)
Pl. feel free to email us at sales@unvired.com or contact us here if you would like to discuss this topic.