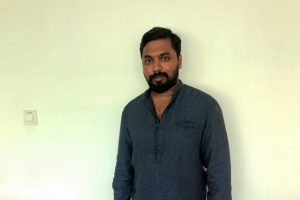 Venkadesh P
Associate Software Architect
"The best thing about working here is the recognition and appreciation received for the work done."
Venkadesh started his journey at Unvired six and half years ago. He joined with three years of experience as an iOS Developer. After working in iOS for some time, Venkadesh started working on other tools like Ionic, Node.js, and Flutter. From starting as a Senior Software Developer, he now proudly wears the hat of an Associate Software Architect.
Venkadesh's typical workday:
As the Associate Software Architect, Venkadesh has to look after the architecture, testing, and release of the software to customers and collaborate and coordinate with the team to introduce new technology into our products.
The best thing about working at Unvired:
For Venkadesh, the best thing about working here is the recognition and appreciation received for the work done. Being recognized helps build up morale and creates a positive and engaging culture at the workplace. The significant support received to learn new technology to extend his knowledge has helped immensely.
"I enjoy coming to work because it feels like a very homely and peaceful atmosphere here at Unvired."
Overcoming challenges:
When he started his career at Unvired, he worked on iOS and found it hard to switch to other technologies. But with the help of his managers and hard work, he was able to overcome it.
What would you tell someone joining Unvired?
"Unvired is the best place for anyone who wants to learn new things and grow in their career."
When Not At Work: Venkadesh enjoys watching YouTube during his leisure time.